TECHNICAL SUPPORT BULLETIN
| TSB
Dynabook Knowledge Base Article
Dynabook Thunderbolt 4 Dock - Function Overview

ISSUE

Overview of supported functions and additional technical notes for the

Dynabook Thunderbolt 4 dock [ Dynabook TB4 dock part number: PS0120EA1PRP ].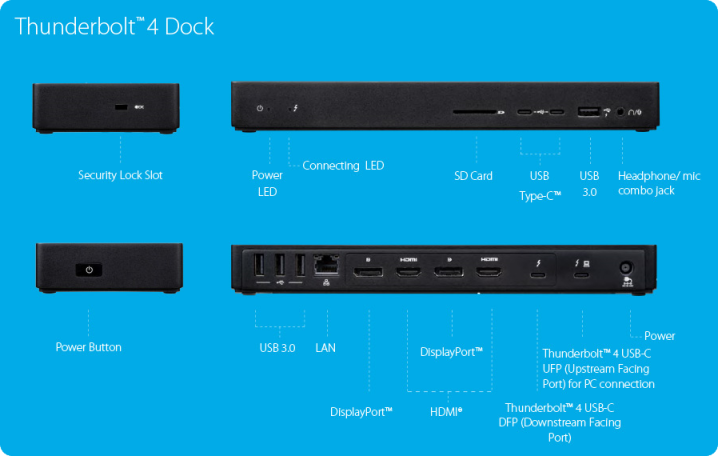 Dynabook Thunderbolt 4 Dock Infographic
The below table describes available functions on dock side as well as it contain technical notes in relation to PC platform [ for example, compatibility and required settings, in order to support features such as PXE boot support or MAC address pass through function properly ].
RESOLUTION
| Short

Dynabook Thunderbolt 4 Dock | Supported Features by Platform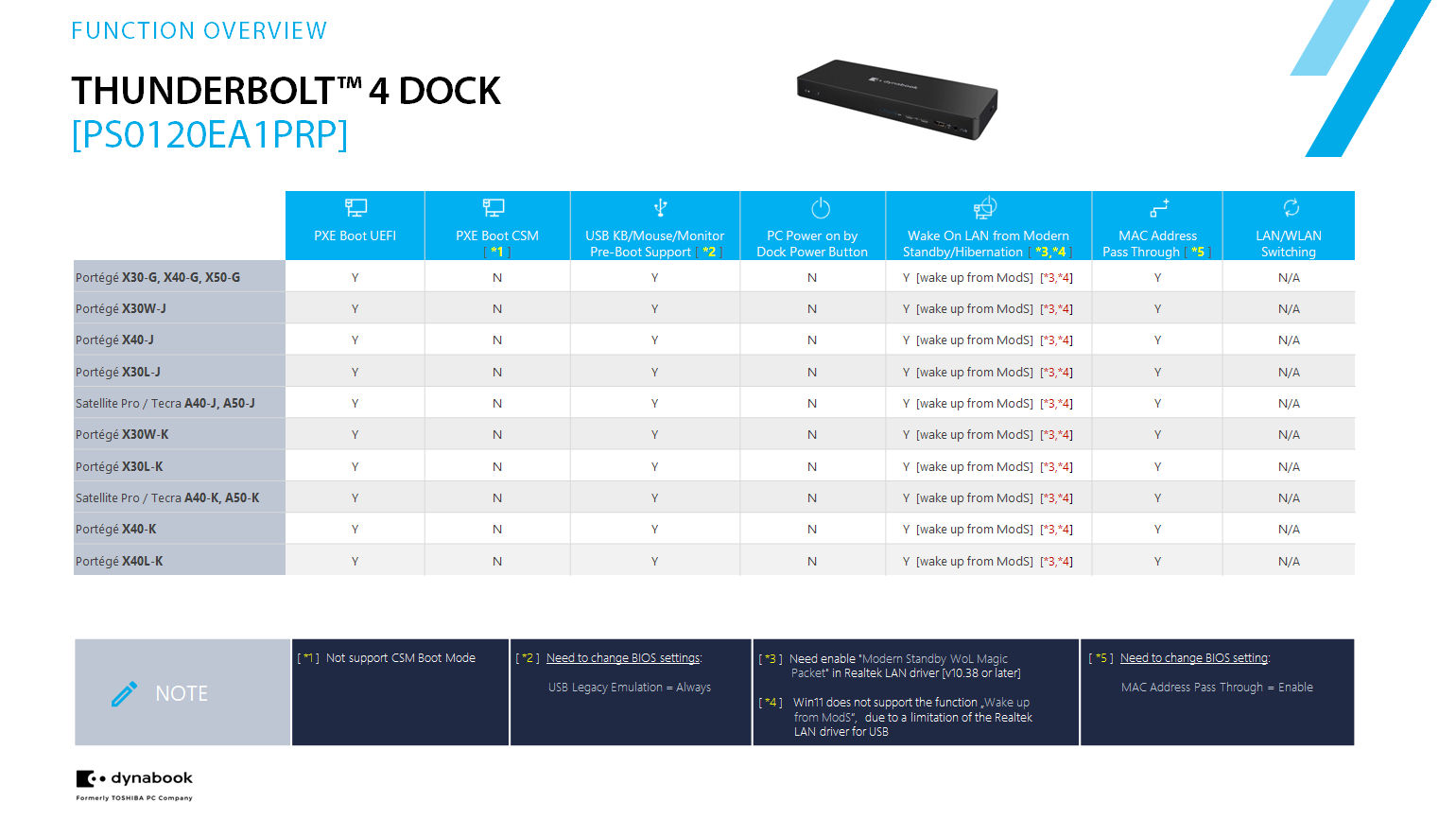 RESOLUTION
| Detailed
No further details available.

DOCUMENT DETAILS
Document ID:
Doc Type:
Online Date:
Date Modified:
Category:
Company:
Product Category:
Mobile Devices, Accessories
Product Group:
Portege, Tecra, Docking Stations & Stands
Product Series:
Portege X Series, Tecra X Series, Docks & Port Replicators, Tecra A Series
Product:
Portege X20W-D, Portege X30-D, Tecra X40-D, Thunderbolt? 3 Dock, Tecra X40-E, Portege X30-E, Portege X20W-E, Tecra X40-F, Portege X30-F, Tecra X50-F, Portege X30L-G, Portege X50-G, Portege X40-G, Portege X30L-J, Portege X30W-J, Portege X40-J, Tecra A50-J, Tecra A40-J, Portege X40-K, Portege X30L-K, Portege X30W-K, Thunderbolt? 4 Dock
Model Number:
Operating System:
Keywords:
Docking Device, Info, Network, Operation, Thunderbolt
---
DISCLAIMER
Dynabook provides this information "as is" without warranty of any kind, either express or implied, including, but not limited to, the implied warranties of merchantability or fitness for a particular purpose. Dynabook shall not be responsible for the topicality, correctness, completeness or quality of the information or software provided. Dynabook is not liable for any damage caused by the use of any information or software provided, including information that is incomplete or incorrect. Any trademarks used herein belong to their respective owners.
Copyright Dynabook Europe GmbH. All rights reserved.

---