---
dynabook Knowledge Base Article
Dynabook USB-C Dock [PA5356] might repeatedly disconnecting and reconnecting
ISSUE
Your

dynabook USB-C Dock [ Model Part Number: PA5356* ] might intermittently disconnects and reconnects.
When this happens:



You repeatedly hear the device disconnect and reconnect sound
Monitor connected to the USB-C dock will repeatedly flash off and on, while directly connected screens or the built in laptop screen, continue to work
USB-C dock LAN connection can be lost or terminated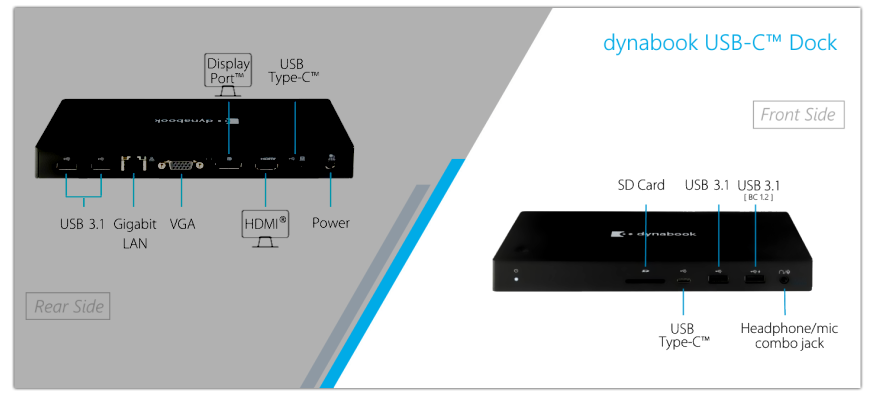 dynabook USB-C Dock | Port Overview
RESOLUTION
| Short
dynabook USB-C Dock [PA5356] | Firmware Update Tool
SOLUTION:
To resolve this issue, please apply a new USB-C dock firmware. The firmware update tool as well as instructions and a installation guide, can be found below.
FIRMWARE UPDATE TOOL DOWNLOAD:

WARNING INSTRUCTION:
Please make sure the dock remains plugged into the Computer during firmware flashing, disconnecting the dock during flashing may cause dock hardware failure.
Ensure the PC is in normal working mode during firmware updating. Do not power off or enter sleep mode.
Please remove any USB devices before executing the firmware update.

FIRMWARE INSTALLATION GUIDE:
ADDITIONAL INFORMATION:
Apart from applying the new USB-C dock firmware as described above, we also recommend to update the BIOS of your Computer as well as installing the latest Realtek LAN driver for USB.
For further details, please refer to the below information:
Update the BIOS of your Computer. Click here to open the BIOS download page, to obtain the latest available version.
Install the latest Realtek LAN driver for USB [at least to version 10.46.621.2021 - dynabook Component Package TCH0900200B]. Click here to open the driver download page, to search for the latest available Realtek LAN driver for USB [ either search in category "Options" -> "Connectivity" -> "Docks and Port Replicators" -> "dynabook USB-C Dock" or in the category "Portables" by selecting your PC model ].

In case you should not be able to update the firmware of your USB-C dock, you might use the following workaround:
Open Start
Type "Device Manager" and open it
Scroll down to Network adapters and open "Dynabook USB-C Dock Ethernet"
Open the tab "Advanced"
Disable settings "Idle Power Saving" and "Selective Suspend"
Click "OK" to save settings
Restart the PC if necessary
This workaround should have the similar effect as applying the USB-C dock firmware update. In any case, please use the latest Realteak LAN driver for USB as well as the recent available BIOS for your PC.
However, we strongly recommend applying the USB-C dock firmware to resolve the described issues.

RESOLUTION
| Detailed
No further details available.
DOCUMENT DETAILS
Document ID:
Doc Type:
Online Date:
Date Modified:
Category:
Company:
Product Category:
Product Group:
Product Series:
Product:
Model Number:
Operating System:
Keywords:
Cable, Display, Docking Device, Expansion Station, Firmware, Info, LAN, Monitor
---
DISCLAIMER
Dynabook provides this information "as is" without warranty of any kind, either express or implied, including, but not limited to, the implied warranties of merchantability or fitness for a particular purpose. Dynabook shall not be responsible for the topicality, correctness, completeness or quality of the information or software provided. Dynabook is not liable for any damage caused by the use of any information or software provided, including information that is incomplete or incorrect. Any trademarks used herein belong to their respective owners.
Copyright Dynabook Europe GmbH. All rights reserved.